I just want every Staind/ Aaron Lewis fan to know a true example of how much Aaron cares about his fans. I don't know of any band/ lead singer who goes as far as they do to show their fans just how much they care and how grateful they are to have the fans they do. I mean they tell us at every concert. That should be enough right. But sadly there are still non believers out there. I have always been a HUGE believer in Aaron's caring nature. There is never a show he isn't out there after signing all the autographs he can. Not alot of bands do that. But he continues to go way beyond what should be required of him. He never lets the fans forget/ that he appreciates their continued support of Staind. I mean they truly are unique in that they never stop giving back. I have always admired that.
But that is where it should end right? I mean you can only give so much of yourself to your fans. There will be times that you can't give as much as you would like to and you hope that they understand. But sadly sometimes they don't. But everyone needs to remember that within Aaron Lewis there is a heart of gold!!!!!!!!!!!!!!!! We have all seen it before. Like when he called up Lisa to the stage two years ago in AC to give her a bottle of champagne for all she does. Or how about the next year when he called Otan up on stage and let him sing to us all. Or when he has taken certain people under his wing that have grown up with a rough life. He just never stops giving back/ or caring. But just when you think Aaron can't surprise you again with his outstanding care for his fans.... he comes at you again with something so truly amazing.
I write this with a very happy heart and I want everyone to know what a truly amazing person he is. We have had the good fortune to see Aaron solo and Staind many times since moving to North Carolina three years ago. Everytime his/ their shows have blown us away. Many of those times if we didn't have the meet n greets we always saw Aaron by the bus. A few times we got to shows early and he saw us and came up to us to talk to us. He knew we were true supporters of Staind. And through the Staind family he knew we had been a part of the groups that had worked hard to raise money for other fans to make it to shows from other countries. Like Staind we never stop giving back. Aaron has known the last few years have been not the easiest for my husband. First suffering 3 major heart attacks in one day/ then shortly after being diagnois with diabetes. It's been a rough road. But nothing we couldn't get thru with the support of good doctors/ family/ friends. Thru the grapevine Aaron had heard about Tony's health and had told Tony at many of shows. Dude you need to slow down. Ha Ha Aaron and my husband are huge golfers and Tony told Aaron someday before I die I would love to golf with you. If I had a bucket list that would definately be on it!!!!!!
About two weeks before we were flying to meet up with friends to go to the Vegas and LA shows/ Aaron called Tony out of the blue and said.. feel like golfing together in Vegas??????? I think Tony about passed out from the shock of it all. Aaron is someone he truly admires. It goes way beyond being the lead singer of some band. Once you meet him and get to know him, he truly is a wonderful person. Over the course of those few weeks/ they talked regularly on the phone. In fact thru Tony he had found out my Mom had just passed away and he called my phone to try to cheer me up. Once again WOW is all I can say. I mean how could anyone out there ever think he doesn't do enough????????????????? I mean you can't please everyone all the time. But this man goes way beyond what anyone else in his shoes would do!!!!
So Aaron arranges not only to golf with him in Vegas but to golf with him in LA. ( He even gave us a quick tour of his LA hotel when we took Tony there so they could take off from there to play golf again) So not only did my husband get to golf with someone he truly admires. Aaron gave him the chance to golf on courses he would of never been able to set foot on without Aaron. What an honor in so many ways!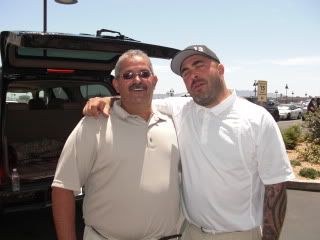 But does Aaron stop there? No way! At the end of the meet and greet in LA he calls me and a good friend of mine named Rosie (who also does so much for so many) back into the meet and greet room and informs us that we are going to be spending some time with him alone. We are on cloud 9. Once again, I have the mind set my husband does. I admire Aaron for all he has done for so many fans/ and personal friends of ours. To have him want to spend some time with us was an honor. Before we knew it we were off in a golf cart being taken to the tour bus. I think in those two hours we hung with him, we talked about everything under the sun. HA HA But it was so much fun. And at the end of our time together, we went to thank him for all of it. And he said hey I just wanted to do something special for you two, you both do so much! Can you believe that.. he was thanking us as well.
I certainly hope so many of you will read this story and truly realize just how amazing of a person he is. I am still in awe that he would go thru so much for us. But that is Aaron Lewis. He does so much that alot of people don't even know about. Just know that if you didn't get an autograph sometime or didn't get to see him when you hoped too. That he still cares about his fans/ and he is ALWAYS giving back. He can't do huge things all the time/ but he is always finding a way to let his fans know he cares about them!
I am honored to know him/ and I am thankful for all that Staind has brought into my life. Their lyrics have helped me thru so much. Staind has not only given me music to get thru my darkest hours/ they have given me a family so to speak. I have been blessed to form a very special bond with a very special group of people. They are my Staind family. I would not have them if it wasn't for Staind!
So thank you Aaron from the bottom of my heart! For not only making my husband's dreams come true but for taking the time to spend with me and Rosie. You never stop amazing me! I see all you do for so many, and I am thankful to know you as a person. Never stop being the GREAT person that you are!!! Never let anyone ever tell you that you don't do enough/ or you owe anyone anything!!!!!!!!!!!!!